Por Joaquin Leandro el 3 de febrero de 2020 12:06:43 PM CST
Tiempo de lectura: 4 min aprox.
One of the best and most important hair transplant clinics in the world is located in Costa Rica, which guarantees natural looking results. Because we know what people are searching for are results that make them feel incredible, that look so natural that nobody will notice a hair transplant was done, we ensure up to a 97% effectivity rate. The DHI international franchise has an impeccable trajectory of 50 years and is now in Costa Rica carrying out hair transplants with the very best technique.
How is the whole process of a hair transplant carried out in DHI Costa Rica?
The whole procedure from start to finish is performed by physicians trained and certified by the DHI Hair Restoration Academy, the one and only Academy in the world in hair restoration, and under strict DHI quality standardization protocols that we have set up to ensure lasting results for a lifetime.
Diagnosis
The diagnosis is extremely important to understand the type of treatment needed by the patient. More importantly, if a patient wants to have a hair implant procedure, we need to assess if the patient qualifies for it or not. This diagnosis is performed by a specialist doctor and he/she determines the quantity of hairs that need to be implanted for the result to be what the patient expects and that they have a natural look. During this medical appointment, the doctor will design your new hair (frontal hairline, eyebrows, or beard), determine the health of your scalp, and examine your donor area.
Finalizing the diagnosis, you will be told the amount of hairs you can donate in your lifetime, if you qualify for a hair transplant, and we will also give you a personalized quote for your procedure.
Any of these could be your journey, or you could come a few days before your procedure and have more days to visit one of the many towns we have on amazing tropical beaches. We want you to compare the DHI experience with any other option you may have, see for yourself why you should choose DHI Costa Rica.
Extraction
The hair follicles are extracted manually, one by one, from the donor area. This is done with a specialized tool called a punch that has a diameter of 1mm or less. To maintain the vitality of the follicles, we use hypothermosol which is a solution that, with the help of the ice packs, maintains the follicles in the ideal temperature so that their vitality does not decrease.
Implantation
The hair follicles are implanted manually with a previous mathematical calculation and with a specialized patented implanter that permits the doctor to have control over the angle, direction, and depth of each hair being implanted. This is what guarantees a completely natural look and the correct distribution of hair in the affected area.
Hair transplant before and after pictures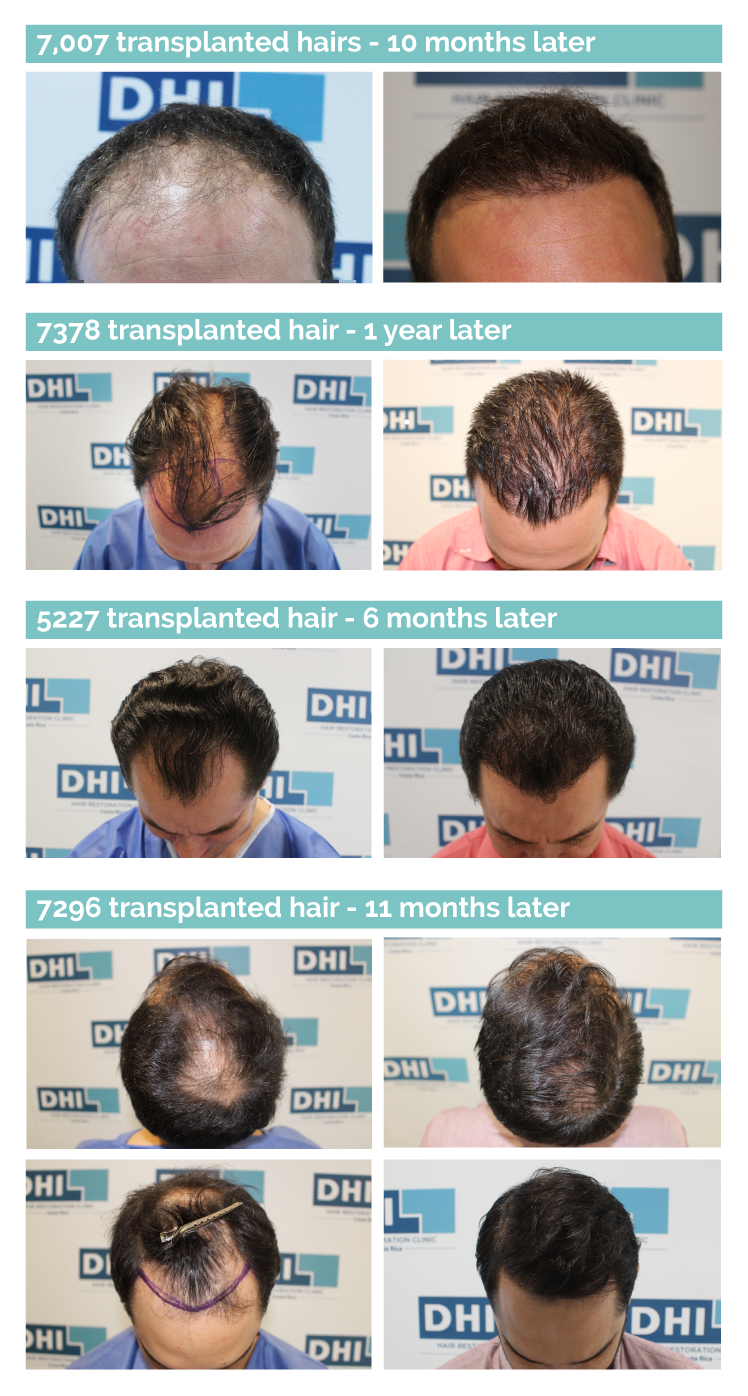 Compare for yourself